Born in 1918 in Portland, Tennessee, Katherine Freeman Groves has a smile that lights up a room. In this interview, she shares Old Hickory tales of moving to the village, loving her family and neighbors, attending DuPont schools, working for DuPont, and experiencing life in general. Her daughters, Betty and Judy, also join in the interview and add some of their own tales.
In 1926, Katherine's parents obtained jobs at the DuPont-Rayon factory. After her parents obtained a company house, they moved the family to the village. On they day they moved, Katherine remembers riding in a nice car (a new experience for her) and driving over the swinging bridge. Her initiall response to the village was awe. As a child who had only known farm life, encountering rows and rows of houses was new. With a few years as exception, Katherine has lived most of her life in the village.
Meet Katherine Groves
Over the River and Through the Woods to Overton Street We Go
In 1926, both Katherine's father, Leslie Freeman, and mother, Effie Ramsey Freeman secured jobs at the new DuPont Rayon manufacturing facility in Old Hickory. DuPont assigned the Freeman family a six-room bungalow located on 1903 Overton. Rent was $12. Katherine's favorite memories of moving to Old Hickory involve having concrete sidewalks for the first time and encountering something the previous DuPont-employee house renter had left behind in a closet. Katherine talks about their move in this clip.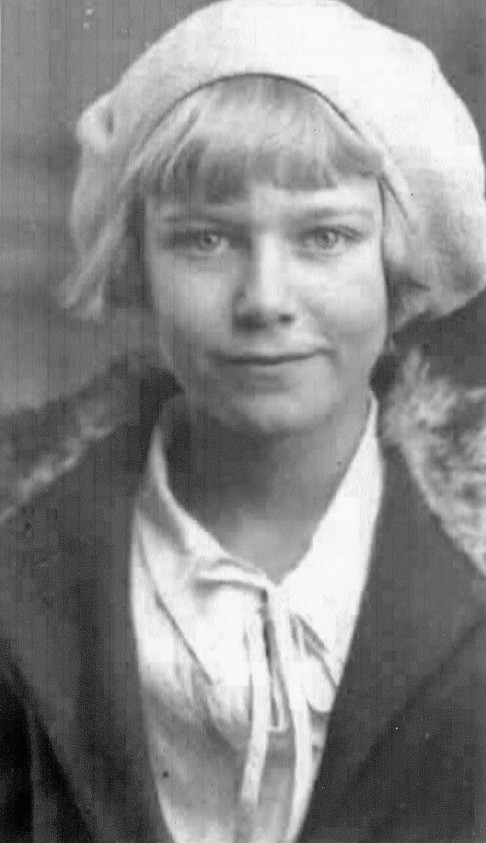 Katherine at the age of 9. When remembering her family's move to Old Hickory Katherine said, "This was all new to me. I had never lived in a town with rows and rows of streets. We had always lived in the country."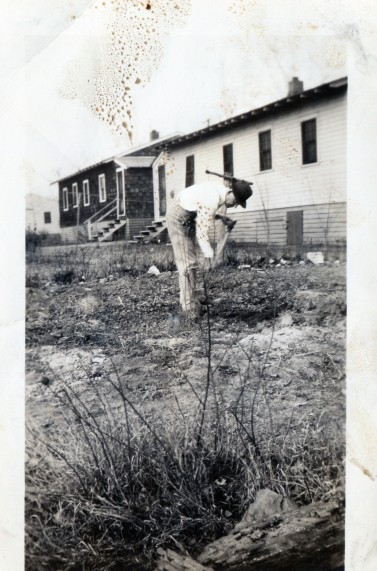 Katherine's parents, Effie and Leslie Freeman, in the 1950s.
Bridge Over Troubled Waters
The swinging bridge was a suspension bridge built by DuPont for the U.S. Government during WWI to allow powder plant workers from the east side of the Cumberland River at Edenwold to cross over to Old Hickory where the powder plant operated. DuPont continued to use the bridge when they returned to Old Hickory in 1924 to build the Rayon Plant. Bridges connect our world and this one was no different. It played a vital role in ensuring employees could get to work for over 10 years. The swinging bridge was replaced by a more stable bridge in 1929. On Christmas Day of 1926, the Cumberland River at Nashville exceeded 56.2 feet (17 m), a level that remains a record to this day, higher than the devastating 2010 floods. The flooding destroyed the approaches to the bridge. DuPont constructed stairs while they repaired the approaches so that the bridge could continue to be used as a pedestrian bridge..

The swinging bridge as it appeared in 1918. There was a small guard shack on the Old Hickory end. According the Katherine, a guard controlled the traffic on the bridge as it was only one lane. The guard would let one side cross and then signal to allow the other side to cross. She says, "This was really scary to me."
Moving, the Old Hickory Way of Life
The Freemans moved a lot during the time DuPont owned the village. Houses were assigned to families based on job assignments at DuPont. If you were in supervision, you were assigned a larger house. During one of the Freeman's moves, they were temporarily upgraded to a two story, three-bedroom home on Jones Street known as a Haskell model and typically designated for a manger. During this time the Presbyterian church was under construction.

In this clip, Katherine talks about being temporarily upgraded to a Haskell-style house and what it meant to her. She also explains what happens when people leave their doors unlocked, two identical houses stand next to each other, and men work graveyard shifts.

The village was built the year Katherine was born. Here are some of the houses under construction in the at that time (Haskell model is, from the left, first, third, fourth, and sixth houses).
Another Move
See if you can keep up. The Freemans first moved to Overton, then temporarily to a "tar-baby" style house, then to a Haskell on Jones, and then to Hadley! Note: many of the smaller dwellings built in 1918 were wrapped in black tar paper earning them the name of "tar baby" house." Moving became a way of life for this family even after Katherine married. If you listen to any of the other interviews on Old Hickory Tales, you'll see that moving frequently was normal among DuPont workers. We did not record every address the Freemans/Groves lived at in this interview!

In this clip, Katherine talks about living on Hadley, their neighbors, the building of the Presbyterian church, their first Victrola, the Charleston, Dill Pickle Rag, and all--day suckers.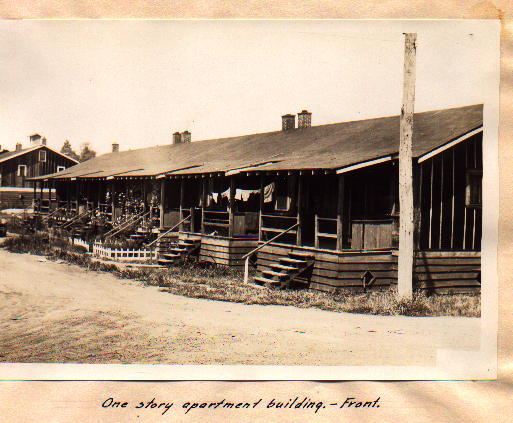 Example of tar-baby dwelling. This photo shows the one-story tar-baby apartments.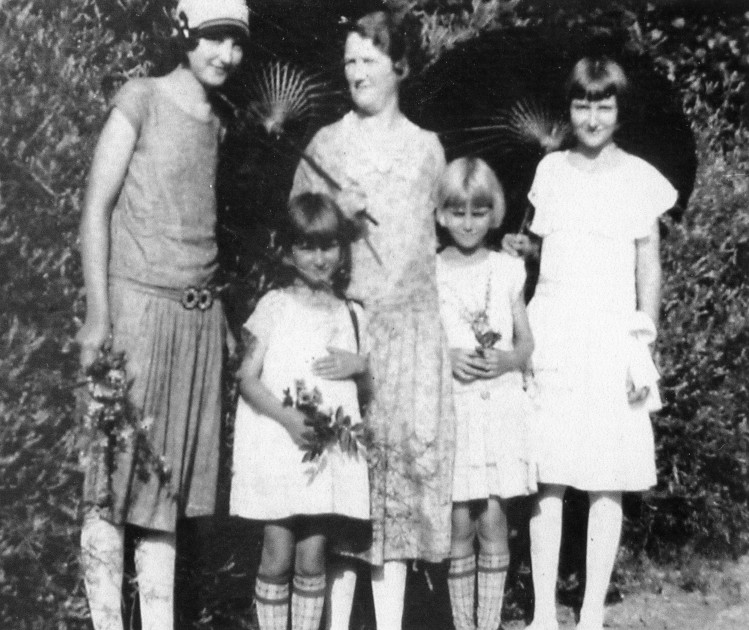 Photo of Katherine and her sisters taken at their house on 1409 Hadley. Katherine is second from left.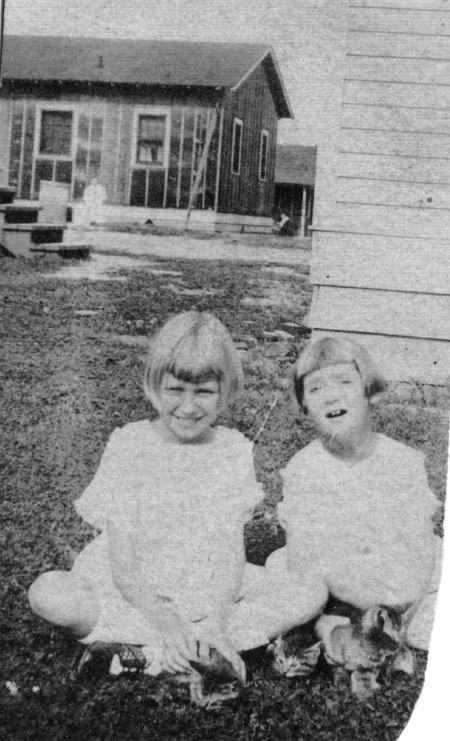 Katherine and Laura near 14th Street (tar-baby house in background).
Feeling Wealthy in Depressed Times
Like most families, the Freemans "made do" during the Great Depression. Having a family member who worked at the Rayon factory provided a sense of "we're rich" in comparison with the alternative of an occupation such as farming. In this clip, Katherine talks about the Great Depression. She also touches on DuPont's use of "script" to pay workers versus cash. Those of us at Old Hickory Tales have heard similar stories but have yet to discover how the script system worked.
Rayon Scraps and Panties
Today's generation cannot imagine the Great Depression, but those who lived through it developed a keen sense for taking advantage of every scrap made available. In this clip, Katherine talks about her mother's job at Rayon and about her unique use of scrap Rayon fabric given to employees.
The Ice Age
Before the days of modern refrigeration, households relied on ice boxes kept cool by ice to store items that would spoil. Katherine shares with us her memories of ice delivery in Old Hickory.
When Heat is Delivered
Coal was used to keep the village houses warm during the early years. Everyone's memories of the coal vary. Up until the coal was transitioned to oil then to gas and then to modern HVAC, coal had to be delivered to each house. Katherine tells us how her family received coal.
Katherine Meets a Kelvinator
Imagine. You have had no exposure to modern refrigeration. You walk into a friend's house and hear an loud humming from the kitchen. What would you think? In this clip, Katherine shares her first encounter with a Kelvinator, one of the first refrigerators!
Church and Ben Hur in the Same Building
Before the current church buildings were established in Old Hickory along Hadley and Jones Streets, many of the congregations held services in the multi-purpose YMCA located on Donelson Avenue. The building was used as a movie theater, bowling alley, sports, church, various community activities, and was the site of Katherine's 1937 DuPont high school graduation. The family would eventually attend the Old Hickory First Baptist Church located on 11th and Hadley. When they began going to the Baptist Church, the building that stands today had not been constructed and church was held in a tar-baby structure. Once construction began, church was held in the finished basement. Katherine was 14 when she gave her heart to the Lord. In this clip she talks about church at the Y and seeing the movie Ben Hur with her family.
The YMCA (now Community left) on Donelson in 1929. This building was torn down and replaced in 1967. The YMCA was a multi-purpose building in the early years. It was used as a movie theater, bowling alley, for church services, and general community activities.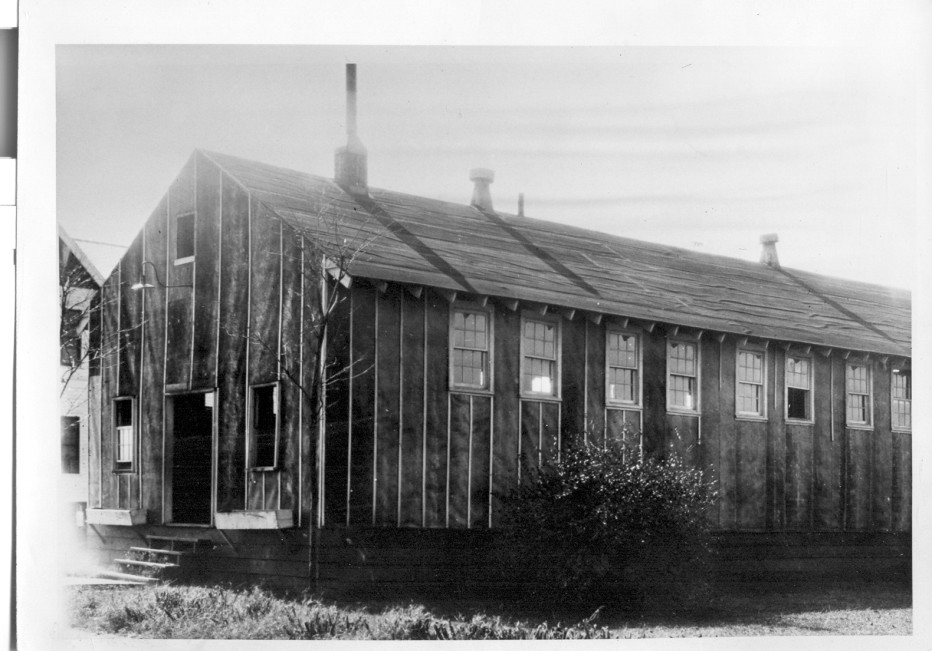 Before the Baptist Church building was built, this "tar-baby" building stood on the property. The Firehall was to the right of this structure. Katherine briefly attended church in this building.
Riverside Picnics
Katherine's family spent many Sunday afternoons along the banks of the Cumberland River. According to her, there was a small houseboat anchored at the river and the family living there would invite them inside to visit. There was what appeared to her to be an abandoned rock quarry with rock walls nearby and they often roasted weinies or had picnics in the space. She talks about these Sunday outtings in this clip.
Writing is Elementary
Katherine is one of the few people still living who remembers the elementary school built for the children of Powder Plant employees in 1918. The school was located on the corner of Hadley and Old Hickory Boulevard where the baseball park is today. She briefly attended elementary school in this building while the elementary school on Hadley was being built. In this clip she talks about this school. Also, we hear about Katherine, the early writer. Katherine has kept a journal her entire adult life chronicling her daily life and still at the age of 95 loves to write.
Not many Old Hickory residents remember this building. This is the elementary school built in 1918 in a back-breaking 10 days after the previous elementary school building burned. It was originally built to educate the children of the powder plant employees. When Katherine's family first moved to Old Hickory in 1926, this building located at the corner of Hadley and Old Hickory Boulevard was still being used for elementary school. Katherine attended school here for a few months until the elementary school on Hadley was completed.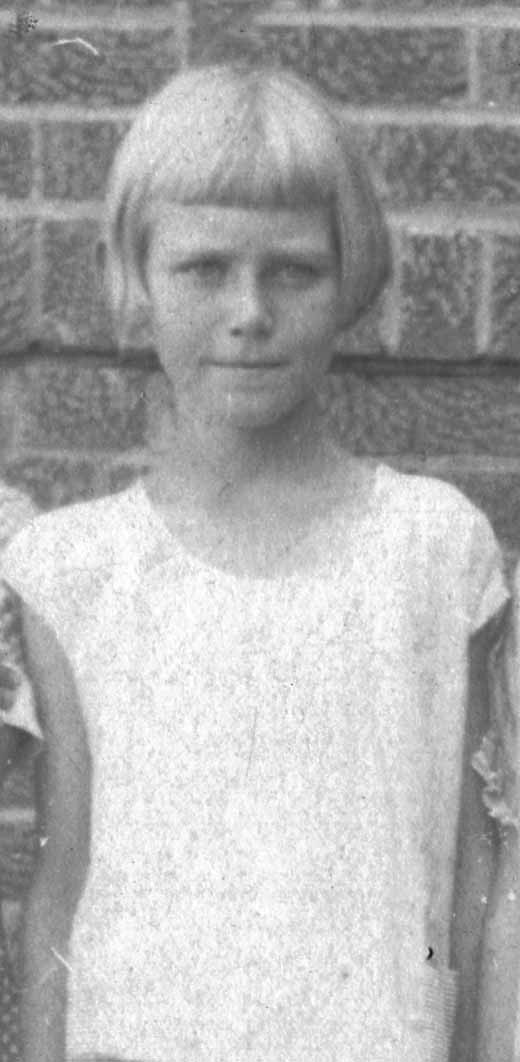 Katherine's in the Third Grade

Elementary School Memories
The fire escapes at DuPont Elementary school consisted of a big metal tube (slide) from both the second floor. During fire drills, the boys would slide first and then help the girls out of the tube when they slid to the ground.

While at DuPont Elementary, Katherine was also involed in theatrical productions. In this clip she talks about these.
Sneaking into the Movie Theater
Most of the people we've interviewd on Old Hickory Tales have stories about the movie theater. It was located on Donelson next to the current-day post office. It was torn down at one point taking a lot of childhood memories with it. Katherine giggles as she tells us about trying to sneak into the theater and the cheaper child ticket price when she was a teenager.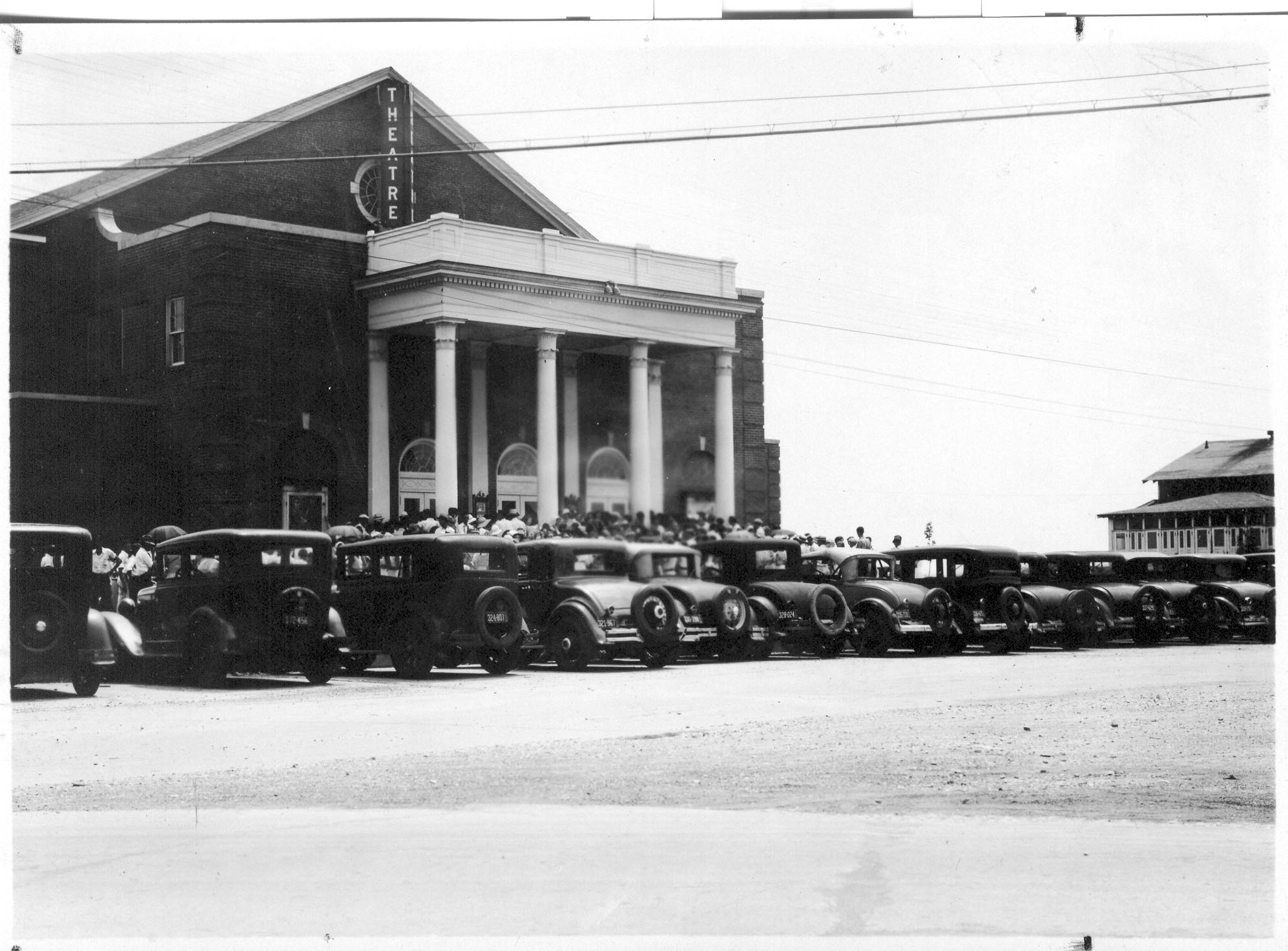 Old Hickory Theater located on Donelson Ave. next to where the Post Office is today - circa 1932. It was not long after this photo was taken that Katherine was sneaking into the theater.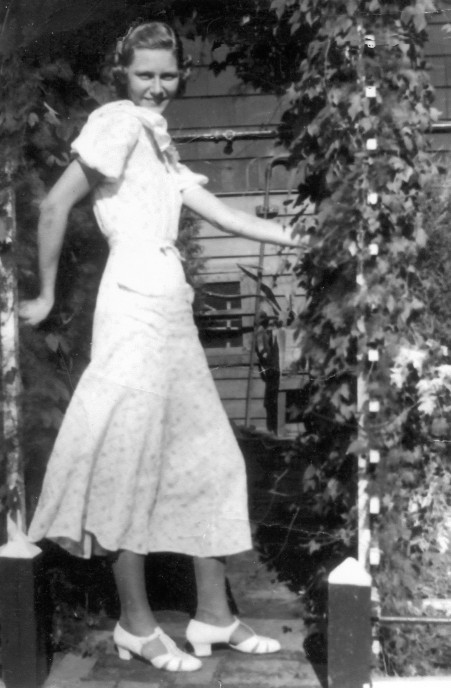 The notation on the back of this photo says, "Katherine trying to be like Ginger Rogers." According to Katherine, her senior year of high school during a gag-giving event her classmates gave her a hairnet. The hairnet symbolized the fact that Katherine was always changing her hairstyle to match the actresses in the movies she saw.
FREEZE OUT!!!!
Teachers today cannot be the strong disciplinarians they were of days gone by. Katherine describes the unthinkable (by today's standards) action her Algebra teacher would take in the dead of winter if the class was not behaving.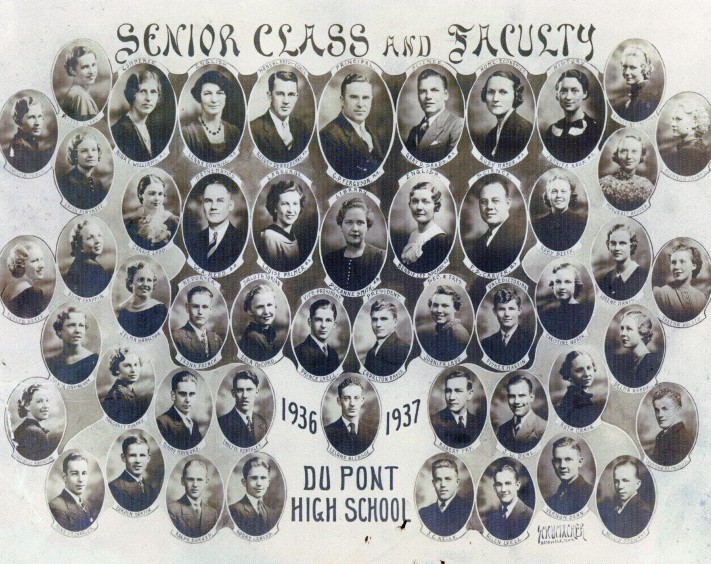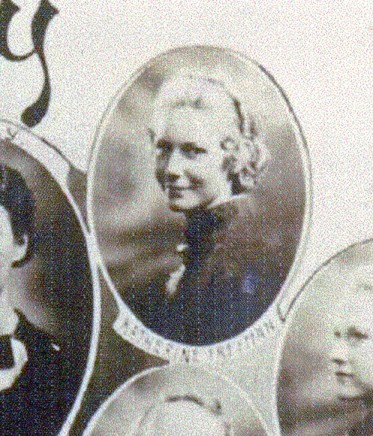 Katherine's DuPont High School Senior Class. Katherine is on the top right of the composite. Red Dean, another one of our interviewees is on the bottom right.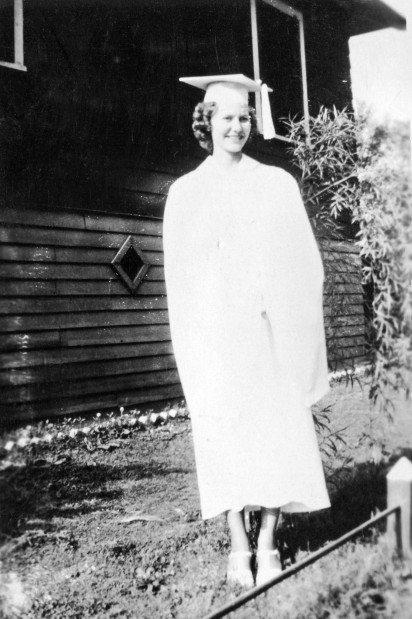 Katherine Graduates - 1937
Meeting the Love of Her Life
After Katherine graduated from DuPont High School, the family moved back to Portland and began to build their own house. During this time her dad continued to work at Rayon. He rented rooms in their village house to an older woman and her daughter. On his days off, he would catch a train in Madison and return home. It was during this time that she met the love her life, Bill Groves. After a short courting period, they marred. Suprisingly enough, he too would be offered a job at DuPont-Rayon and Katherine found herself back in Old Hickory with her new husband living on Dismukes. They would go on to have two daughters, Judy first followed by Betty. Numerous grandchildren and great grandchilren would also follow. Katherine is extremely proud of her family. You will hear this in her final message in this interview.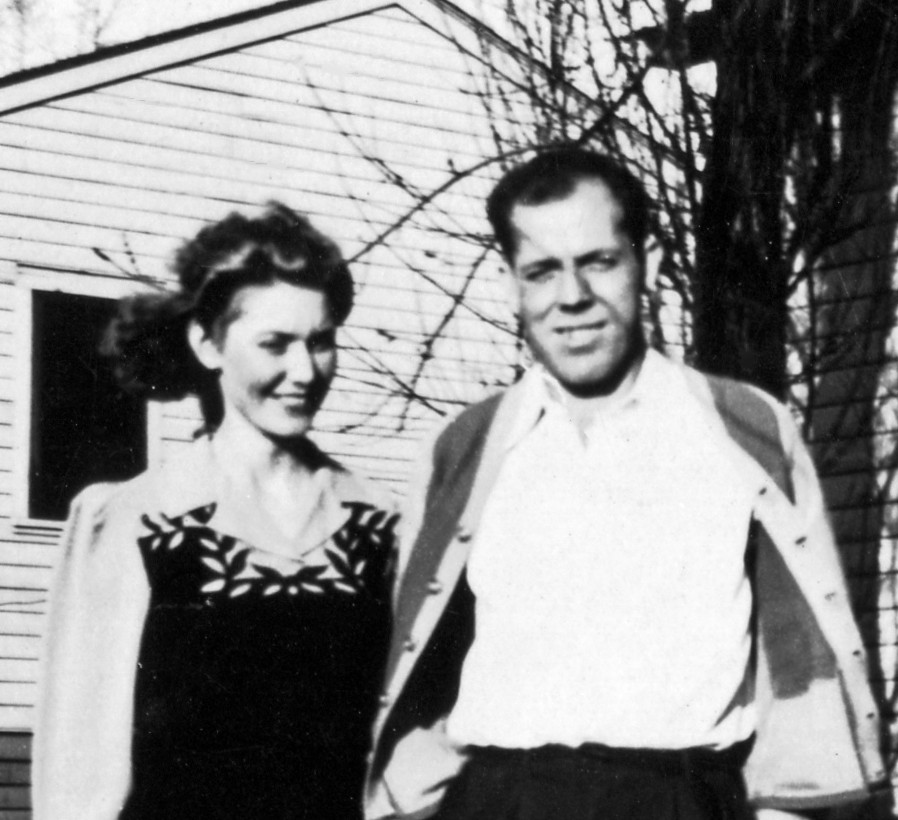 Katherine and Bill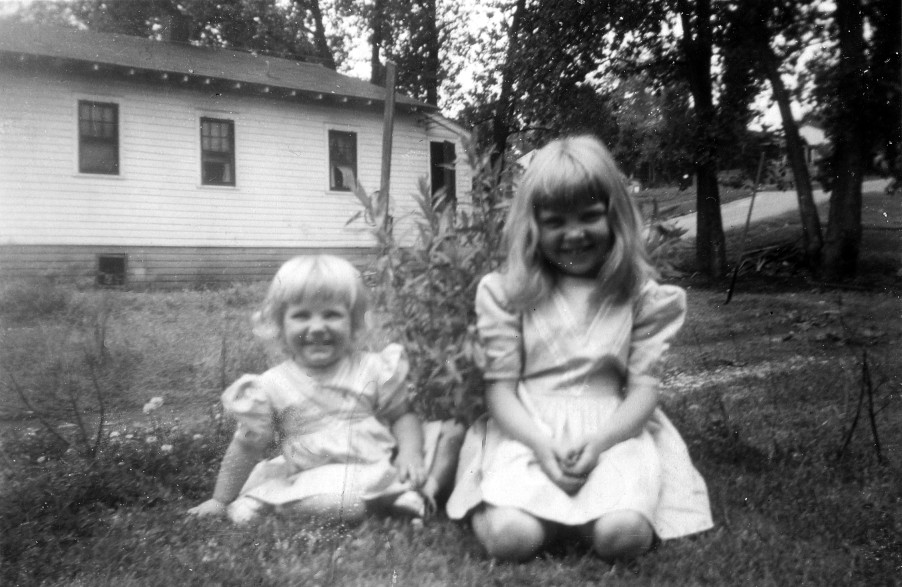 Katherine and Bill's two daughters, Betty and Judy ~ 1947
No Glamour Job at Rayon
Bill Groves' job doesn't sound like it was particularly easy. In this clip, his daughters talk about his work. One thing that isn't perserved in this part of the interview is their discussion on his sleeping habits. The village houses were not air conditioned in the early years. Those who worked graveyards shifts faced horrible summers trying to sleep during the day. Bill often did what he could to keep cool while trying to sleep including sleeping under the house!
Working at DuPont, a Family Tradition
Most of Katherine's family worked at DuPont including her! During WWII she was given the chance to work at Rayon and she did just that! Katherine worked for the company for 13 months. The desire to be a stay-at-home mother, however, was too strong to keep her in work force.
Rayon Uniformity
During her 13 months at Rayon, Katherine was required to wear a uniform. The uniform was sewn and not bought. Sewing was a major part of Katherine's life. Most of her clothes growing up were sewn and that practice would be continued into her own children's lives.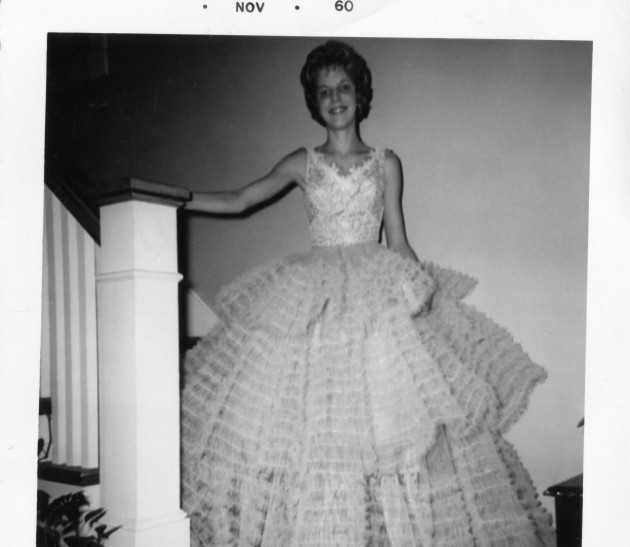 Katherine's Creations - Katherine sewed most of her children's clothes. In this photo, Betty beautifully models her prom dress sewn by Katherine.
When Technolgoy Fails Us
One of the standard questions we ask in any Old Hickory Tales interview is what changes over the years do you like or dislike. In this clip, Katherine hits a home run with her dislike for what has changed in the world since her childhood. Can you guess what her dislike is?
A Confession
Katherine was a well-behaved child. Like most of us, she is not perfect. In this clip, she reluctantly (and apologetically) shares with use one thing she remembers doing wrong.
Working at DuPont, a Family Tradition
In this clip, Katherine explains the three generations (four if you count son-in-laws) who have worked for DuPont.
Free Hour
Katherine didn't spend a lot of time at the swimming pool growing up. She did go occasionally in what was called "free hour." DuPont routinely opened up the pool to all residents for an hour free of charge. Normally, there was a minor fee to swim. Katherine had to be careful in her choice of attire to walk to the pool. In this clip, she explains.
Morris's
You oten hear long-time village residents speak about Sullivans or the drugstores, but not many talk about Morris's. Morris's was another all-goods store located on Hadley. Katherine worked in the office at Morris's for almost 20 years.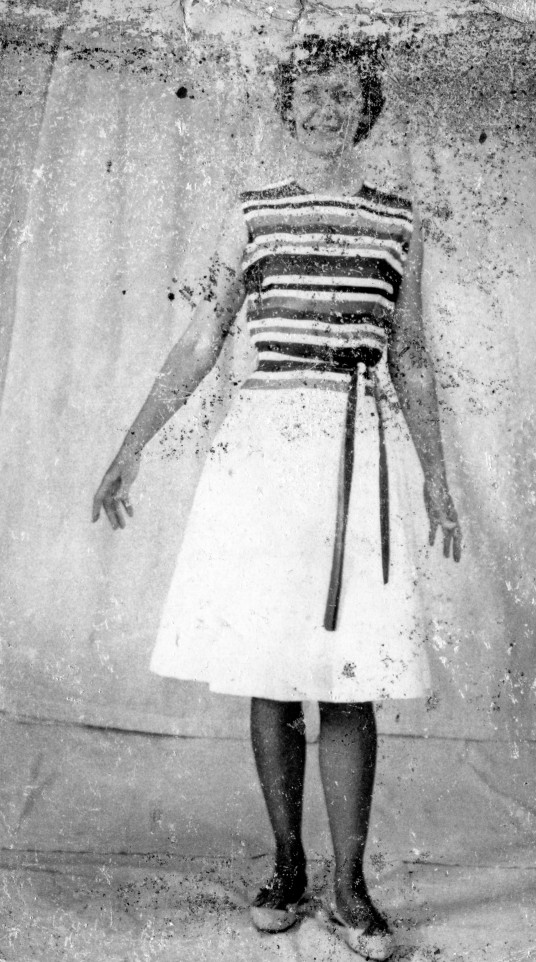 Katherine modeling a dress for a Morris's advertisement
Betty's Pool Memories
Betty spent more time at the pool than her mother growing up and has some rather unique memories of it. In this clip she shares with us her favorite memories.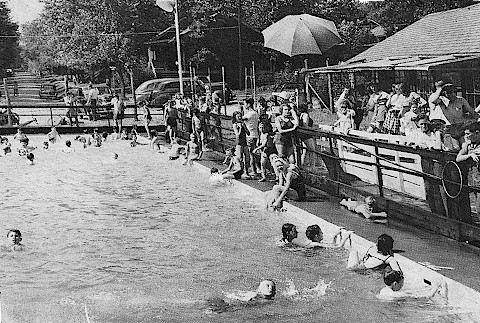 Swimming Pool at Rachels Walk - Circa 1940s
Pie and Popcorn
At one point in time, there was an old street car parked on the corner of the street close to where the Community left is today across from Old Hickory Veterans Memorial Park. It had several names, but was first called The Pie Wagon. Men and women who walked from the village to DuPont often would stop in the restaurant for a quick meal. On the other end of the street where the firehall is today, there was a pop corn stand. In this clip Katherine talks about how she thinks The Pie Wagon was established and Judy reminisces about the pop corn stand.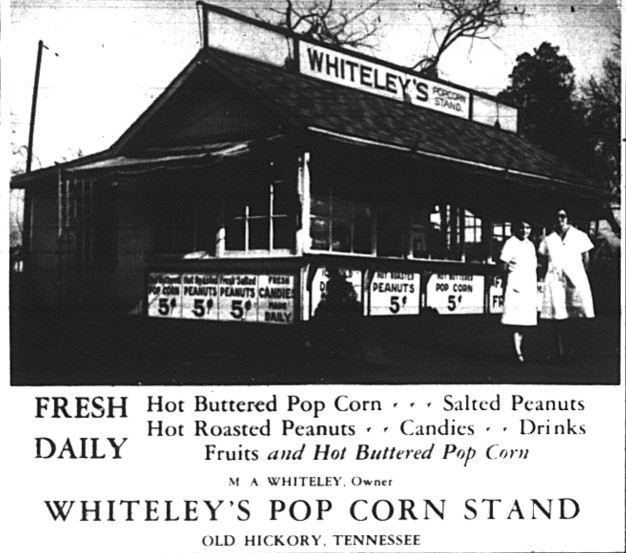 The pop corn stand located on the corner of Hadley and Donelson where the firehall is today went through several owners. This photo is circa 1929 when the stand was owned by the Whitelys.
The Popsicle Boy
There was a day and time when ice cream man wasn't in a vehicle, but rather on odd-shaped bike. Betty and Judy tell us about young ice cream vendor they called "the popsicle boy" in this clip.
How Do You Remove a Pool
After additional moves, Bill, Katherine, Judy, and Betty eventually ended up on Clarke Street in a house that backs up to Rachel's Walk. Not long after they moved into this house, the swimming pool was removed. The pool was not simply filled in as one might think. Katherine knows this for a reason. Listen as she explains what happened.
Rachel's Trees
Not all of the trees that you see in Rachel's walk today where there from the beginning. When the swimming pool was removed, the Old Hickory Utility District brought in trees from the land where the Hermitage Golf Course is.
A Life Remembered
How does Katherine want to be remembered? Listen and find out. rine's celebrates her 93rd birthday surrounded by her great grandchildren.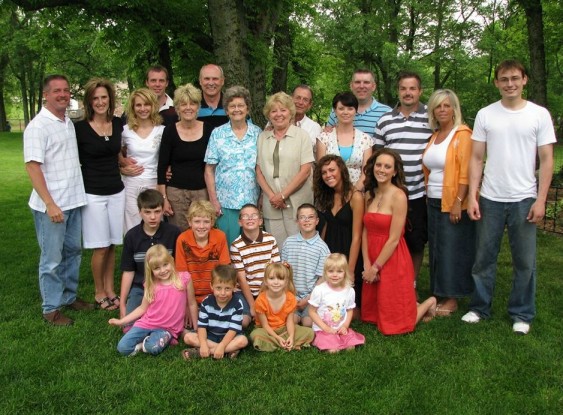 Katherine's Family
Note: For years Katherine has kept a diary of her daily life. Some of the notes in the written piece of this interview come from that diary.
More Family Album Photos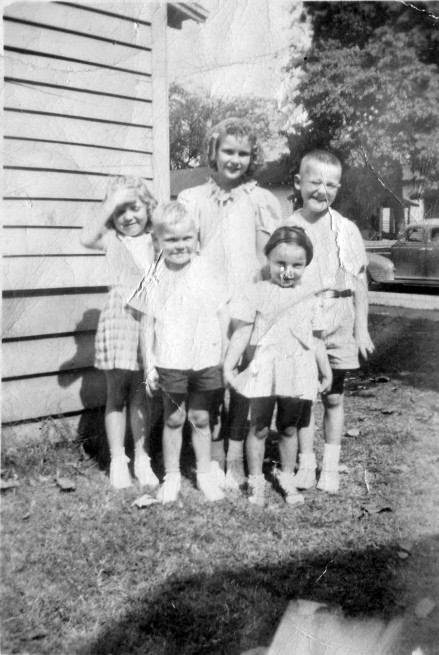 Groves, Bakers, and Vanderpools en masse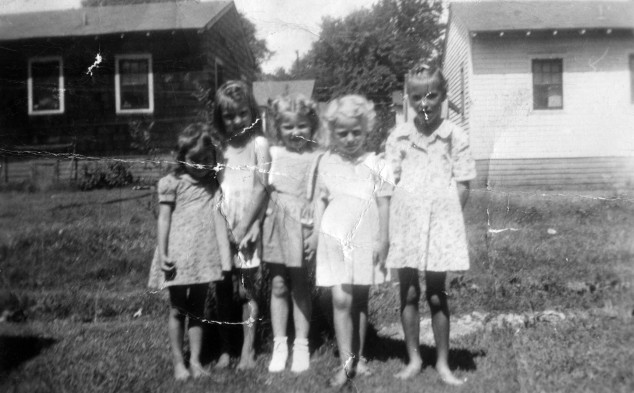 Judy and friends on Dismuke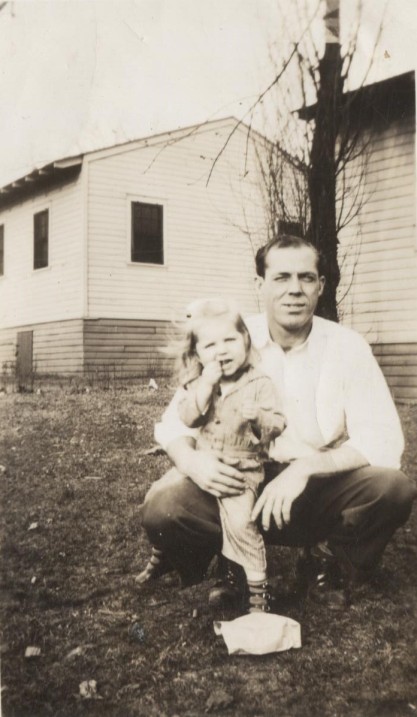 Judy and Bill 1942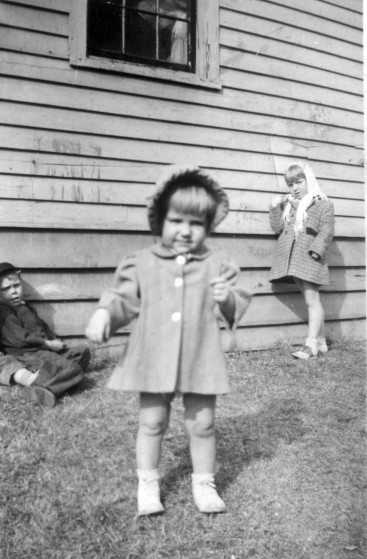 Betty and Judy on 1706 Dismuke