Baseball Notes
August 10, 1918 Old Hickory News
The Gun Cotton and Intake Baseball teams had a rather disjointed baseball game last week. The game started Thursday evening. Three innings were played, resulting in a 6 to 2 score for the Intake.
On Saturday evening, the remaining innings were played and enough additional scores were sprung by the "water boys" to boost the final score 14 to 3.
---
"Entertainment Needs"
Engineering Study - 1929
Old Hickory being a new community composed of groups of people drawn from widely scattered locations has not acquired a "community conscientiousness". Until this condition is corrected many residents will continue to have a felling that they are living here only temporarily and have an intention of sometime returning to the place called "home". Until the residents acquire this "community conscientiousness" Old Hickory cannot be considered a settled community nor a source of perpetual labor supply for the Plant. When this desirable condition is attained the Plant labor turn-over and consequent training of new employees will be reduced to such an extent that a tremendous saving will be effected.
A start in this direction has been made by the community baseball team which is fostered by the Welfare Department. This is a good team and makes a strong appeal to a certain portion of the population.
In 1928 - The DuPont Company organized an industrial baseball team with Floyd "Pop" Smartt as Manager. This team became part of the Nashville Industrial League and won the Nashville City championship 11 of 12 years.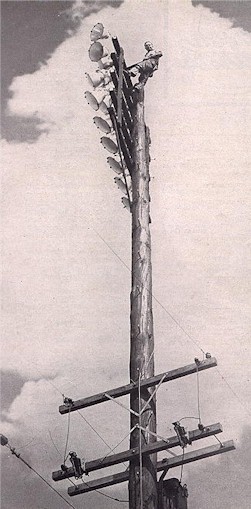 April 1947
John O. Hill, Minor Construction electrician, perched atop one of the light poles at the ball park, helping to install the new lights that are making night baseball and softball possible this season. Old Hickory fans have looked forward for a long time to the installation of these lights, which not only relieve the crowded schedule that was necessary last year on the different diamonds in the Village, but will also enable many more people to see the games.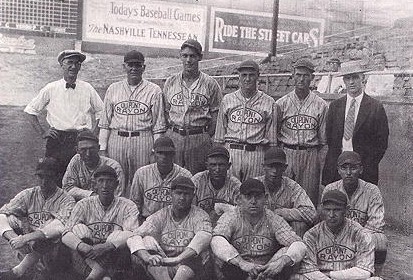 early ball players are not identified
The "Official" Beginning
- 50 Years - Old Hickory Site -
It was in 1927, in the midst of a golden era in sports throughout the country, that Old Hickory began its own epoch of athletic achievement.
It was then that Floyd "Pop" Smartt assumed the managerial reins of the Du Pont Company baseball team, and the record that followed was equaled by few industrial baseball teams anywhere. The team earned the Nashville city championship in 11 of the next 12 years, reaching its zenith of achievement in 1932 when it won the national industrial championship at Louisville Kentucky.
When Smartt gave up the post in 1938, others stepped in and athletic successes continued until the mid 1950s when the recreation program was interrupted by the slackening of rayon business. Among those heading the program these years were "Chin" Johnson, Paul Toombs, Ray Pogue and Roger Fuqua.
Although fun and recreation were purported to be more important than gaining titles during the rayon days, winning was certainly a factor. "Make no mistake, those teams - basketball as well as baseball- were out to win, and most often they did," recalled Toombs who headed the athletic program from 1942-1950.
The company's program didn't stop at putting representatives in city league races. Some of the most enthusiastic support, from both the company and the village, went to the numerous intra-plant league teams. In the pre-television era it was commonplace for hundreds of Old Hickory people to pack the park grandstands for a baseball or softball game, or the old gym for a basketball contest.
As many as 40 teams competed in the plant leagues, and games were scheduled from early morning to late at night. Softball teams required the use of three diamonds in addition to the main field in the village. That diamond, incidentally, was recognized as one of the best in the south, and the gymnasium was certainly one of the largest and best in Davidson County.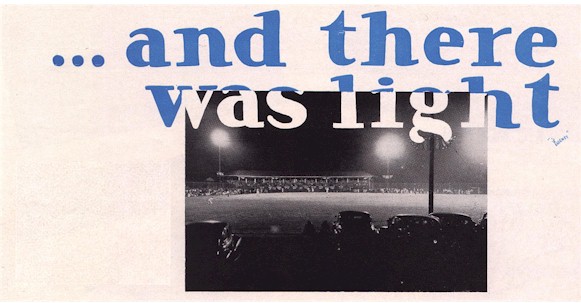 June 1947
On Thursday evening, April 24, 6,000 fans gathered at Du Pont Baseball Field to witness the dedication of the new lights and to see an exhibition game between the Du Pont team and Cellophane Flashes.
With Hume Hall of Cellophane as master of ceremonies, a special program preceded the game. The formal dedication of lights was made by Recreation Supervisor Paul Toombs. The Du Pont High School band was on hand to furnish some lively music, and Old Hickory Youth Activities put on a Trampoline exhibition and a demonstration by Old Hickory boys. The Du Pont team won the game 6 to 5.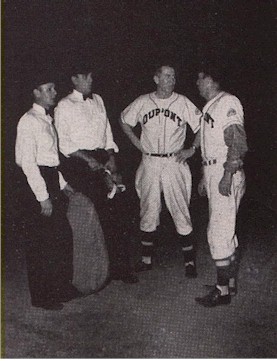 This looks like an argument, but it is really the pre-game discussion of ground rules between the two managers and the umpires. Left to right: Umpires Catiganani and Jones, Managers Ernest Garrett of Flashes and Roger Fuqua of Du Pont.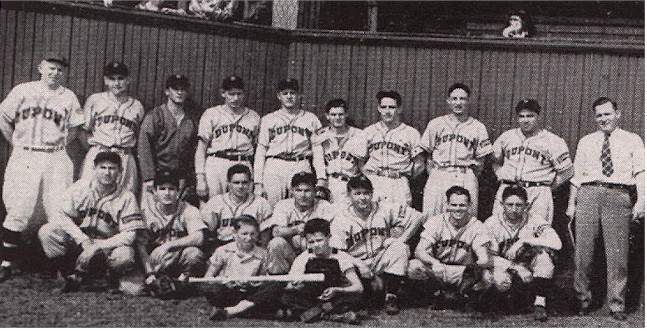 Cellophane Flashes, L to R, standing: E. Garrett, manager; Donaldson, catcher; B. Winchester, pitcher; Joyner, outfield; Hicks, third base; Jones, catcher; Beerman, catcher; Bush, catcher; Morrison, outfield; Toombs, business manager. Kneeling; Hearn, first base; Ray, outfield; Proctor, shortstop; J. Winchester, , utility; Patterson, second base; Stephens, outfield; Ethridge, pitcher. Batboys; Jimmy Rager and Bobby Hardin. Absent: J. Garrett, infield; Cone, first base; Collins, first base; Davis, pitcher.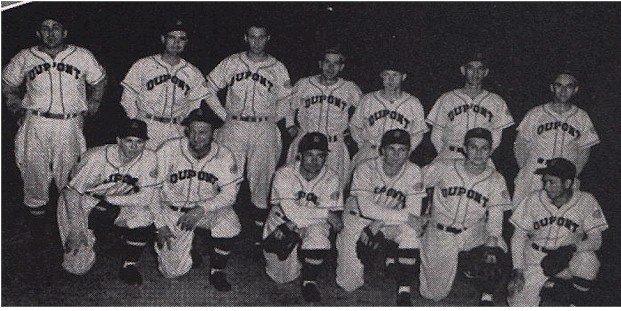 Du Pont Team, L to R, standing: Fuqua, manager; Smartt, utility; Graves, pitcher; R. Cartwright, outfield; Menees, third base; Bell, pitcher; Jones, pitcher. Kneeling: Scobey, second base; Weatherspoon, catcher and coach; Stagg, outfield; Maxwell, shortstop and outfield; Gassaway, catcher; D. Cartwright, first base. Absent: Clark, shortstop.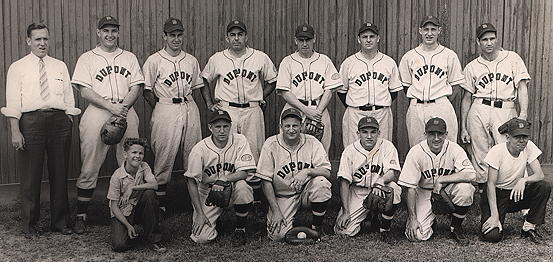 Front L to R: Billy Brake, bat boy; Archie Gant, Clyde Weatherspoon, Dutch Sears, Bill Waldren, Johnny McGee. Back L to R: Paul Toombs, Charlie Greer, Boots Smartt, Roger Fuqua, Hugh Goodman, Chili Harden, Paul Bush, Dick Cartwright.