The job list from the Rayon years looks extremely different from the list of today. These were the years where employees were paid on site and didn't have checks magically appear in their checking accounts over night. These were the years that DuPont was concerned about what was fed to employees in the cafeterias. These were the years that called for a DuPont employee to be sent to your house to change a light bulb. As nostalgic as these jobs may sound, the job list of today would probably cause just as much wonderment to our predecessors from the Rayon era.
The following is a list of a few of these jobs that were a part of the Rayon plant that are fairly extinct today due to the changes in how we live our lives.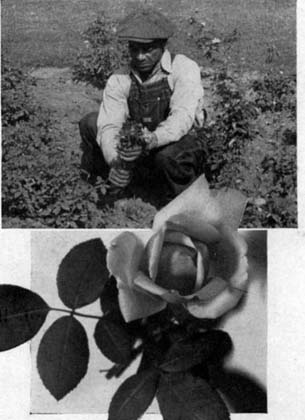 A familiar scene is Harry Branum, Jr., working with his flowers. Also a familiar scene is Harry's daily presentation of bouquets to the lucky people who work closest to the plant lawn. No small morale builder are these bouquets of brilliantly hued roses, or the showy many-colored Zinnia, or a mixture of Marigold and Blue Ageratum. Harry Branum, Jr., full-time gardener, is supervised by F.E. Smith, Jr. Harry's service dates back to 1932, and he makes his home in Edenwald, Tennessee. - Rayon 1946

Although you cannot tell much about this photo since it is in black and white, this is a massive and probably very colorful display of Red Salvia and Periwinkle flowers that use to grace the front of Rayon. If you can imagine, this particular flowerbed was somewhere in the vicinity of where the Medical/Reemay® entrance is today. This flowerbed was one of the few that Branum was responsible for in his duties as a plant gardener.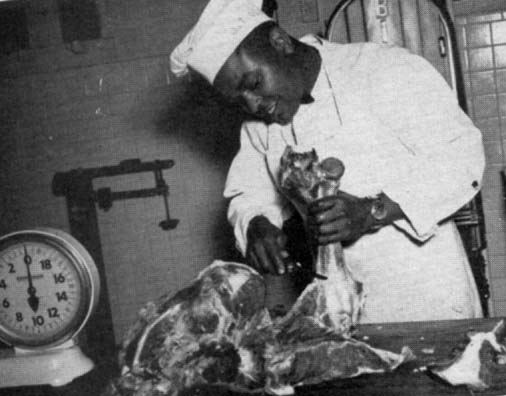 You would not ordinarily connect the occupation of butcher with the manufacture of rayon, but this is one of the many and varied jobs that go to make up our organization. Hudson Cantrell is the plant butcher. He handles the handling and preparation of meat for the plant cafeterias. An average of about 400 pounds of meat a day, raw weight, is used on the plant. One of our returned veterans, Hudson served in the Army for nearly five years. He became a platoon sergeant with a truck outfit and was in the Philippines campaign and later in Japan. He has married since discharge, lives at Goodlettsville. Hudson learned to be a butcher since returning to work in February of last year. Cafeteria menus are carefully worked out to provide a balanced diet and meat is the main source of protein, the body-builder, besides furnishing vitamins, minerals and energy fuel. Doctors tell us the ideal diet for the average individual includes at least one serving of meat every day. - Rayon - 1948
---
The following jobs are from the early 1950s. The Rayon Record ran a series of articles in each edition called "This is My Job". Here are a few of those articles.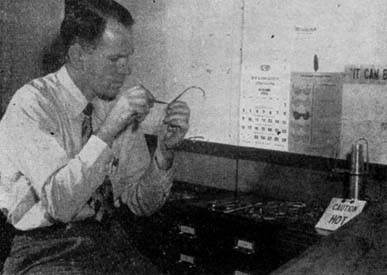 Arthur N. (Robbie) Robertson repairs a pair of safety glasses as part of his job with the plant's Safety Department. In addition to making repairs and adjustments on eye protective equipment, "Robbie" also is the plant's movie projectionist, showing safety films. He takes care of bulletin boards throughout the plant displaying safety and other posters. He also operates the Embossograph machine that turns out embossed signs, produces signs from silk screens, laminates plant passes and installs materials displayed in show cases in Cafeteria and in front of plant. Being a member of the Safety Department, "Robbie" makes regular inspections of gas masks and stretchers.
"Robbie" was first employed on the plant in 1939 and entered the army in June, 1942. Upon receiving a medical discharge in October, 1944, he returned to his job in December of that year.
"Robbie" was the first wounded veteran of World War II to return to work on the plant and received the Purple Heart and Oak Leaf Cluster because of these wounds.
The Robertson family, consisting of "Robbie," his wife and two small daughters, make their home in Mt. Juliet.
---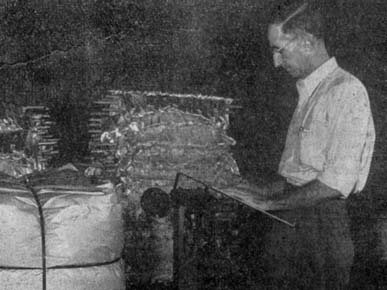 Comer Crowder weighs a bale of waste rayon, as part of his job of Waste Inspection Leader.

Besides this operation, Comer keeps an inventory of stock on hand and under his leadership, the women of the department inspect the rayon while the men do the drying and packing.

Comer has been in this department for the past 18 years, having worked in Shipping for 2 ½ years and in Spinning for 2 ½ years. His adjusted service date is November 17, 1928.
---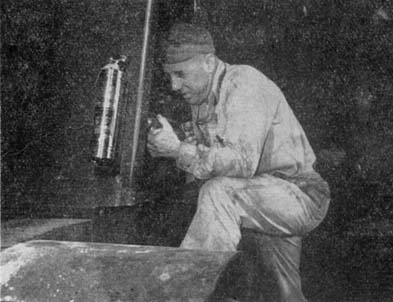 Robert B. (Bob) Gilbert repairs a gasoline-driven Fork Lift as part of his job of Garage Mechanic. In addition to repairing gasoline Fork Lifts, "Bob" makes repairs on all mobile equipment used in Plant Service such as Dempster Dumpster trucks, gasoline-driven Wheelbarrows, Tractors, Fire Equipment and Power Mowers used on Golf Club fairways.
Having an adjusted service date of August 7, 1933, "Bob" has been in Plant Service for the past eighteen years, fifteen of which have been spent as Garage Mechanic. Prior to his employment in Plant Services, "Bob" spent three years in Spinning Areas.
Jean George and Wilma Blanton are shown checking card records as part of their job as Employment Record clerks. Their job consists of keeping employment information on all hourly roll employees from the date of employment Records are kept on changes of job status, rates of pay, payroll numbers, periods of disability, vacations and information pertaining to employee insurance beneficiaries, seniority, etc.
Jean has been a Records Clerk for the past two years, having previously worked as Employment Sign-Up Clerk for four years. She also worked in Production control Section for about nine months.
Wilma has been in Employment for the past four years, having transferred from Time Office where she was a clerk for eight years. Prior to that time, she was in the Inspection Area for five years.
---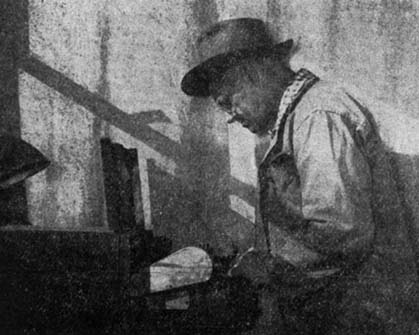 Perry Couch is the Plant's Lock, Key and Scale Mechanic. His job consists of keeping all scales and locks on the plant in good working order. In addition to approximately 85 pairs of scales to keep in repairs and adjustments, Perry also has about 20 pairs of balancers to look after.
When a padlock key is needed, Perry makes a new one from either a sample or from the knowledge of working tumblers of the lock. He is also required to repair and rebuild locks of all kinds and keep them in working condition.
Perry has been on the job for the past five years, having been with the Millwright Group since 1925.
---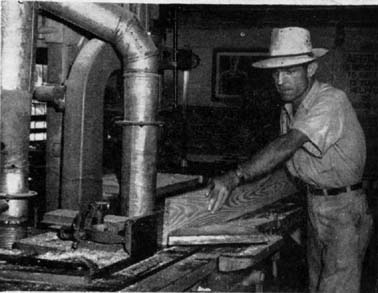 Thomas W. Basford, Village Service Maintenance Shops, is shown operating a Jointer Machine as part of his job of Crescent Universal Woodworking Machine Operator. Besides this jointer, the machine is equipped with a Rip Saw, Band Saw, Shaper and Mortising Machine. Tom is one of the three employees that is authorized to operate this combination machine.
Tom has been with the Village Maintenance Group since December, 1948, having been employed at the time as an outside Carpenter. He was transferred to his present job 2 ½ years ago.
---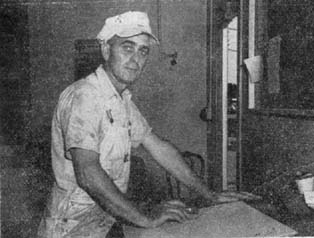 Commie F. Jackson is shown starting work on one of the numerous permanent signs that is used on the plant, as part of his job of Maintenance Sign Painter. In addition to painting all permanent signs, "Jack" refinishes office desks and other furniture and does other routine jobs such as stripping floors in plant areas.
Having been employed as a cake wrapper in 1929, "Jack" worked in the Spinning areas until October, 1936, when he was transferred to Maintenance as a Painter. He was assigned to his present Sign Painting job in August, 1946. His adjusted service date is June 29, 1921.
---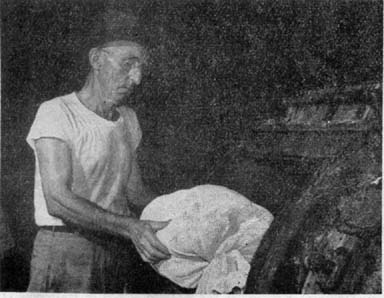 Putting out the plant wash is not just a Monday morning proposition with Clifford Ammons of Plant 2 Laundry. Monday through Friday of each week finds Clifford and the other laundry operators engaged in their job of operating the washing machines that cleans knit wraps, filter clothes and other plant laundry.
Clifford has been on his present job for 14 years. He had previous service in 2-A Wash and Bleach Laboratory, where he helped mix F Finish solution. He also worked for a while in the Spinning area and in the Wash Court as a wringer operator. He came to work for the company in January of 1927.
---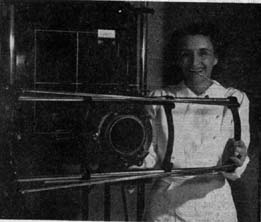 Eva Lankford is pictured standing beside the machine she operates as the Medical Department's X-Ray Technician. Eva makes all X-Rays used by the plant Medical Department for use in diagnosing and treating the ailments of employees.
Eva was first employed in Plant 2A Reeling Room as an operator in 1933, and transferred to the Medical Department 11 years ago. She has been on her present job for the past five years.
---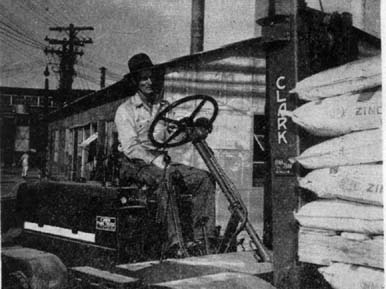 Pictured above is Omel Allen delivering a load of essential material as part of his job of Yard Lift Operator. With this gasoline-driven lift, Omel handles many loads of heavy essential material such as alum, soda, ash, bicarbonate of soda, zinc sulphate and many other materials of like nature.
Omel has been operating this and the electrically-operated type lifts for the past eight years and in addition to material mentioned above, he unloads wood pulp, using the electric lift for this purpose.

---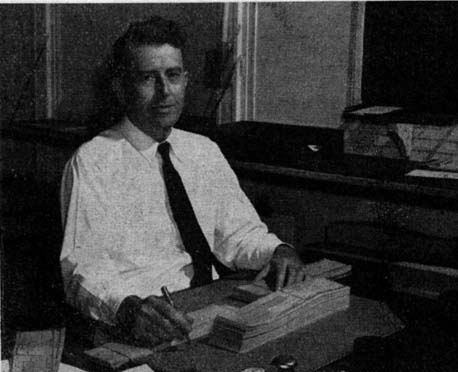 Charlie Watts has a job that is important to every employee. Paymaster and Assistant Cashier. It is his responsibility to see that everyone receives their pay check at the right time and at the right place.
All employees' checks are received in the Cashier's Office and dated, signed and distributed. That office also has the responsibility of getting disability checks to employees out sick. All cash from miscellaneous sales, etc., is also received there.
Charlie has been a Du Ponter for 24 years. His first job was Plant 1 Spinning. He quit there to return to school and was later rehired in the Time Office. He has been on his present job since…….. with the exception of about two years during World War II, when he worked in the Maintenance Office doing machine and shop scheduling.
---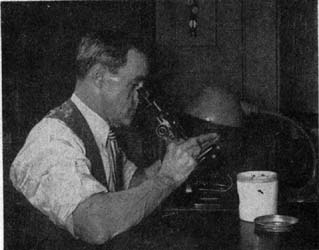 John H. Emerson is a Spinnerette Repair Operator in Plant 1 Spinnerette Room. John's job is to inspect and do the necessary repairs to spinnerettes after their use on spinning machines. Sometimes the small holes in the spinnerette become stopped up with viscose, and must be reamed out.
The job is done with a small reamer under a microscope.
With the exception of a short time spent in the Wash and Bleach, John has been in his present job for the past 25 ½ years. His adjusted service date is April 19,1925.
---
Doris Hall is a chart changer in the Air Conditioning Section of the Power Department. His job is to change approximately 550 temperature, pressure, vacuum and flow meter charts located throughout the plant. One hundred thirty of these charts are changed daily and the remainder on a weekly basis, a certain number on each day of the week. He also must keep a seven days' supply of new charts prepared and dated in advance.

Doris has been on this job and other jobs in Air Conditioning for the past 10 years. The remainder of his more than 17 years' company service was spent in the Textile Areas with the exception of one month in the Spinning Room.