There is a very significant sign on one of the du Pont employment office waiting room walls. It reads:


NOTICE TO THOSE SEEKING EMPLOYMENT

Unless you are willing to be careful to avoid injury to yourself and fellow worker do not ask for employment here. We do not want careless employees.

This sign tells the story of the constant fight waged against carelessness and consequent injury by the Old Hickory plants with consequent success and recognition.

In brief we might remind our readers that the safety movement as we know it today had its origin in Milwaukee back in 1912. The following year the National Safety Council was organized with a handful of members. It is significant to note that last year the National Safety Council celebrated its Silver Anniversary with a grand total of 5,000 members and 400 foreign members. Figured on the basis of statistics it was estimated that the Safety movement had been responsible for saving 285,000 lives during the 25 years.

The du Pont Company, recognizing the need for safety in industry, was one of the first large concerns to see advantage of instituting safety first measures.

A safety department was created in Old Hickory in 1925 with J.T. Brown, present supervisor in charge. The record established by the local plants has been outstanding.

Today, the Old Hickory Rayon plant holds the National Safety Record established March 22, 1937 with 11,361,846 man hours without a major injury. Prior to that time, the local Rayon plant had held third place with 9,166,934 man hours. This record being established October 5, 1932. The Westclox Division of the General Time Instrument Corp. holds second place with 11,114,000 man hours.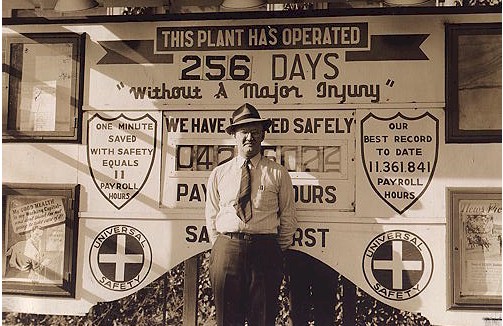 J.T. "Jack" Brown, safety supervisor for the du Pont plants in Old Hickory, has the very vital job of seeing to it that every employee remembers to be careful all the time. It has been under his supervision that outstanding records and progress in safety work were made by the local plant during the past ten or fifteen years. Mr. Brown was employed at several other places with the company before he came here in 1925, among them Gibbstown and Pennsgrove. During the war he served in the U.S. Marine Corps.
"This record," according to Mr. Brown, "has been accomplished by concerted accident prevention programs such as the June No-Accident drives, poster contests and the safety congress and participation in the company award program in which prizes are given employees of plants going specified lengths of time without injuries."
It is well to mention in this connection that the Rayon plant has won eight awards and the Cellophane three. At the time of this writing both plants have a splendid chance to win other awards. The Cellophane plant has just completed the period required for winning a handsome plaque which will be presented their representatives at the National Safety Congress which will be held in October.
The first Old Hickory Safety Congress held March 24,25 and 26 at the gymnasium building proved an unusual success. Twenty-five unique displays attracted thousands of spectators.
Since the beginning of operations in Old Hickory the Rayon and Cellophane plants have been successful in negotiating three accident-free years. Cellophane had no injuries in 1935 and 1937, while the Rayon plants went through the calendar year of 1936 with complete safety.
Asked why the du Pont company stressed safety to such a degree, Mr. Brown replied, "because Safety pays both employee and employer.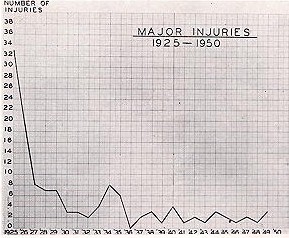 Top: Safety record for Cellophane. Bottom: Safety Record for Rayon.