Auberta Hutchinson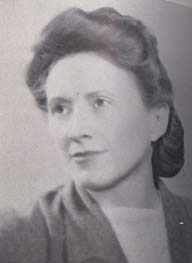 Twenty Years.....it's certainly been a long, long time, a continuous panorama of interesting events and personalities. I remember very vividly my first introduction to Old Hickory and Du Pont, though I had lived in Nashville all my life, was on January 12, 1925. It was one of those very bright, extremely cold days with about six inches of snow and sleet underfoot. It seemed fun to be going job hunting for the first time and we traveled out the Gallatin Pike in an old 7-passenger Studebaker jitney (a cab) which was, according to the driver, POWDER PLANT bound! After getting out of the city limits of Nashville, we saw only a few houses dotted along the way, the rest being just sort of a wilderness. All was well until we approached the old suspension bridge which was caked with slippery sleet and ice. The jitney made several false starts up the incline approach to the swinging bridge only to zig-zan crazily backward each time. All ambitions to land a job were completely forgotten and all I wanted was to be out, with my feet on the ground, and my face turned toward home. With some skillful maneuvering the driver finally made it up and across and down. Then we traveled on a little way and the jitney drew up in front of a tar-baby shack and said, "This is it!" I quickly asked, "This is what?" --- The answer, "Why, this is the Du Pont office!" (In my imagination thru the years I had associated working in an office with the Stahlman Building in downtown Nashville.)
Once inside, though, things were better almost immediately, warm and cheerful. The atmosphere was vibrant with the pioneering spirit, too, I expect. Anyhow, Mrs. Lola Smith was running the Employment Office with Ladye High and Rella HInes. A little later a very able man with cold steel blue eyes, cleancut and clipped-tone, interviewed me (Mr. I. D. MacNaul). I suppose applicants weren't too numerous in those very early days because at the end of the interview I found myself with a job, as stenographer in the Service Department of the Du Pont Fibersilk Company.
Started getting acquainted right away with Old Hickory's first nucleus of personnel. IN the next room was Mr. J.P. Hannum who had just finished building the du Pont Plant (present Plant One Rayon). Next was the Purchansing Office with Mr. Gleen Lee, Alice Rainey and Margaret House. Then across the hall were Bob Darden and Roy Thompson in the Accounting, next were Mr. Gamble, Chief Timekeeper, and Bill Feldkircher. Then a room equipped with some sort of inspection apparatus and presided over by Marian Walsh, Mrs. Elinore Herrick, Julie Vance and Therese Domster. The last down the hall were Dr. H.J. White and Mrs. Ida T. Dean (Murphy). A twin version of our tar-baby shack was just adjacent and connected with ours by a little wooden walkway. This was the Construction Office. At lunch time we either unrolled sandwiches from home or ventured across the street to the "Greasy Spoon."
While I, myself, had never thought of SAFETY in terms of an organized resistance to accidents and deaths, there were those who had -- those where were OLD TIMERS with Du Pont even as I spent my first day with the Company. They knew that Old Hickory must have a Safety Supervisor. One day riding out in the same old Studebaker jitney, a couple of use were wondering audibly when this J. Thompson Brown was supposed to arrive and what he would be like. About this time a young male voice spoke up from one of the little side seats and said, "Well you don't need to wonder any longer, -- just look him over." We looked him over, with red faces, but we couldn't OVERLOOK him for long because in the years that followed we were to see Jack Brown, with magnificent cooperation down to the last man establish a WORLD'S SAFETY RECORD for the Du Pont Plants at the Old Hickory location.
Nobody can write of twenty years' experience and say it was all smooth sailing, because it wouldn't be true. For instance, in the year 1939, the flu hit us and hit hard....those escaping were busy running to First Aid to get two little ones and a big one, in order to keep pinch hitting for the ones who were laid low. Then, happy thought, Wage Disability had begun to function in '37 and a fellow could take heart and get well a little quicker knowing his illness need no longer spell financial disaster for his family.